Delivering Excellence in Education for Builders for 30 Years. Builder Education Done Right!
Building It Right is the education branch brought to you by Murray Frank and the trusted team at Constructive Home Solutions. Having developed and delivered "Building Smart" on Behalf of the Homeowner Protection Office (now BC Housing) and the Province of B.C., Constructive Home Solutions continues to pave the way in building science and builder education through number of different learning styles that meet builders' needs on various levels. ​
With the implementation of mandatory Continuing Professional Development (CPD) for builders in B.C., Building It Right serves to provide the training needed for those credits. Building It Right offers many different seminars on a wide range of topics across the province. More than 40,000 attendees have seen presentations by Murray Frank over the past 30 years. The powerful combination of construction experience, consulting knowledge, involvement in research, governance and codes development is brought together in a friendly, captivating and simple-to-follow format that appeals to new builders through to the most experienced.
How to Register:
Step 1: Click on the desired course on the provided list on the landing page
Step 2: Click 'add to cart' to start your checkout process
Step 3: On the cart page, choose your warranty provider from the drop down list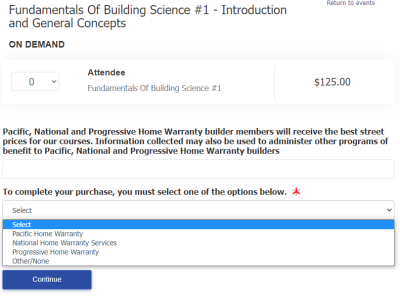 Step 4: Pay and enjoy your Building it Right course – a registration email will be sent to the email you provide when you purchase.